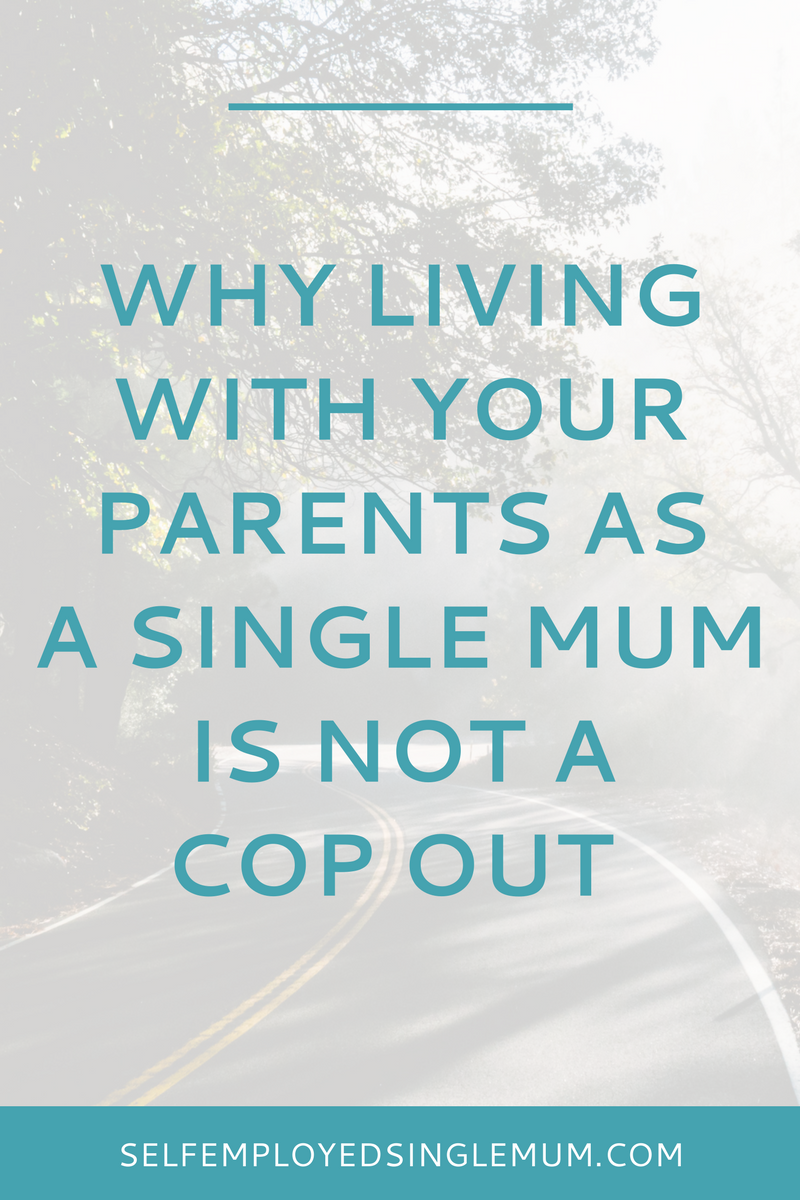 One day last summer, I cracked. I'd been soldiering on alone, trying to do it all as a single parent and a solo breadwinner. I was exhausted, miserable and struggling to make financial ends meet.
One sunny July day with the prospect of school summer holidays further depleting my already meagre income, I sat at my desk with my head in my hands. I felt like running away from my life.
Instead, I went for a walk in the fields behind my house and sobbed.
Then I called my mum.
I'm lucky. For all my 45 years my mum has been the dependable rock at the centre of my life.
"Come home, darling," she said. "You and E can live here with me. I'm in this big house by myself and you're always welcome here."
Truth be told she's wanted us to live with her since we moved back to the UK from Sydney four years ago. But I've resisted. Resisted with all the "I can cope on my own because that's what I'm supposed to do" stubbornness I could muster.
We've lived with her temporarily, between houses, but I was always been adamant that I wanted my own place. So I sold my flat in London and bought a house a few minutes away from her.
We were fine for a while, but then the cracks started to show.
I'm 45. And I like to think I'm a strong independent woman. I'm also proud. Too proud for my own good. I couldn't possibly go and live with my mum. Could I?
What would it say about me? That I'm incapable? That I can't stand on my own two feet? That I've failed at life?
What I've come to realise is that it says nothing of the sort.
Sometimes life takes unexpected turns. But if you know where you're heading you'll still arrive at the same destination. Just like a GPS that adjusts your route if there's an accident or unexpected traffic, there's no RIGHT way.
There are no hard and fast rules dictating how you should live your life. 
Clinging on to a fantasy of what my life SHOULD be made no sense at all.
So last at the end of January, nearly nine months since the sobbing-in-the-field phone call, I packed up my beloved house and moved us into my childhood home.
It wasn't easy. Adjusting has been tough on us all. But it no longer feels like a cop out. It feels like the smartest thing to do.
As a very wise friend of mine said:
"There's no shame in doing what's best for you. This is your life!! NOT someone else's idea of what your life should be."
Once I stopped telling myself a story about what I SHOULD do. Once I stopped placing unreasonable expectations on myself – the right path became clear.
Living with my mum isn't my life's dream. Becoming a single parent wasn't my life's dream either. But in both cases, instead of resisting the reality of my life, I've decided to face it head-on and turn a less than ideal situation into something wonderful.
Breaking down my resistance wasn't easy. One of the ways I approached it was by writing a list of all the positives living with my mum would bring.
So, here are eight reasons why living with your parents makes sense if you're a single mum.
Eight reasons why living with your parents makes sense if you're a single parent.
Click To Tweet
1. To ease the financial pressure.
This is HUGE. I'm not a materialistic person but there's no pretending money doesn't matter.  And the lack of money starts to consume every fibre of your being – it's a huge source of stress. If like me, you're able to rent out your house and go and live with your parents then the extra income will be a godsend.
Not only that by sharing a house means shared bills and lower outgoings. I don't know about you but I want to be able to enjoy life and my daughter's childhood. 'Stressed out about money mummy' is the antithesis of 'fun mummy'.
Now not only am I more relaxed, but we can go on trips away and modest holidays and treat ourselves now and again. Life's too short. There's no point struggling on alone if it means you can't enjoy life.
2. To save a cash-cushion
If you don't have one, or, like me, you've gone through it, then being able to build up your savings is a major advantage to living with your parents. Whether it's because you're self-employed and have an irregular income, or simply to have an emergency fund, a buffer of money sitting in the bank will give you enormous peace of mind.
Related:  18 advantages of self-employment for single mums
3. To stop making decisions out of fear
With the financial pressure off you'll be able to approach your work and what you choose to do in a more rational way. Decisions made out of fear usually turn out to the be the wrong ones. I found myself considering work and choices I knew weren't right for me, purely because I was scared of not being able to pay the bills.
Should I go back to working full-time and commuting to London so that I could continue living in my house without worrying about money? Or should I go and live with my mum and continue to be able to work around school hours?
Faced with that choice, I knew what the answer had to be.
Now, I can use this time to calmly grow my business and this blog. I can make the right decisions about what I do and how I do it.
Related: It's time to say NO to working nine-to-five
4. To stop pretending to be superwoman
Earning all the money as well as doing all the parenting, housework, organising, admin and cooking is a tall order. The day I cried down the phone to my mum, I was sick and tired of doing EVERYTHING alone.
I wanted to be part of a household where I'd have another adult to share the responsibilities. Both the huge and the mundane.
My stubborn pursuit of independence had made me anxious and depressed. Where's the sense in that?
Related: Thriving as a single mum: 6 lessons from Lorelai Gilmore
5. For companionship
Being a single parent can be extremely lonely and socially isolating. There's no-one to discuss your day with in the evenings, no-one to roll your eyes at when your little one is playing up, and no-one to share the funny/joyful/mini-successes with either.
I'm an introvert so crave alone time, but too much of it turned me into a recluse. When I looked closely at the way I was living I saw that out of convenience or in an effort to save money I isolated myself further and further.
I was living alone, working alone, parenting alone, exercising alone, even drinking my coffee alone.
Now if I'm on my own it's because I choose to be.
6. So your kids get used to sharing you and learn to depend on someone else too
My daughter can be very possessive of my time and attention. She's used to having me to herself most of the time and can be known to kick-off when I spend too long talking to someone else in her company. While fairly normal behaviour for a small child, I'm also conscious that our situation hasn't helped her ability to share me and my attention.
As a single mother by choice, my mum is the closest my daughter will ever have to another parent. She's the only other person in the world who finds my daughter as fascinating as do, and who is as committed to her welfare as I am. She's also the only person I know I can rely on to help us and love us unconditionally.
Now, when I'm busy working, want a lie in, or simply need a break, my daughter has my mum to hang out with. Just this morning, I smiled to myself when I heard them both get up before me and start chattering away downstairs together. I love the relationship they have.
7. To get your life back!
Not only is the pressure off but, with a built-in babysitter, you can also have a life outside of being a mum. I'd got into a habit of saying no to so many invitations and activities because I couldn't get out of the house in the evenings without asking my mum to come to my house and babysit.
Now, I've been able to start playing netball, go for a run in the mornings, pop out to the pub to meet a friend, and simply have some quiet time to read while my mum gets my daughter to help her in the garden.
8. Because it's YOUR life.
Don't let a 'story' you're telling yourself about what your life SHOULD look like stop you from doing what's best for you. Whatever that might be. Because, at the end of the day, your happiness and your kids' happiness are the same thing.
I put the decision off for months. For no good reason. I had a false belief that it was a step back, an admission of defeat. But that's bullshit.
When I started telling other people I was thinking of moving in with my mum I found out that people I knew already had their parents living with them, or practically next door.
You don't have to cope on your own. In fact, the nuclear family I was envious of is a bullshit (that word again!) modern invention. As human beings, our natural state of being is to live in tribes. We're all much better together, sharing life's responsibilities.
Maybe you don't have parents you can easily turn to for help, as I have. But I urge you to find your own tribe, your own village.
---
So as I've written this I've realised that it may seem like an effort to justify my own unconventional choices in life, but you know what? I don't care what anyone else thinks. It's MY life, and I'm no stranger to unconventional choices.
We might live with my mum for a year, we might live with her forever. What I do know is that as a result of the move I can feel the pressure, stress and worry melting away. And that can only be a good thing.
Whatever you do, do what's right for you. It's YOUR life and you make the rules.
Got questions? Leave a comment, let's chat!