A cheap and cheerful caravan park holiday in Devon #singleparentholidays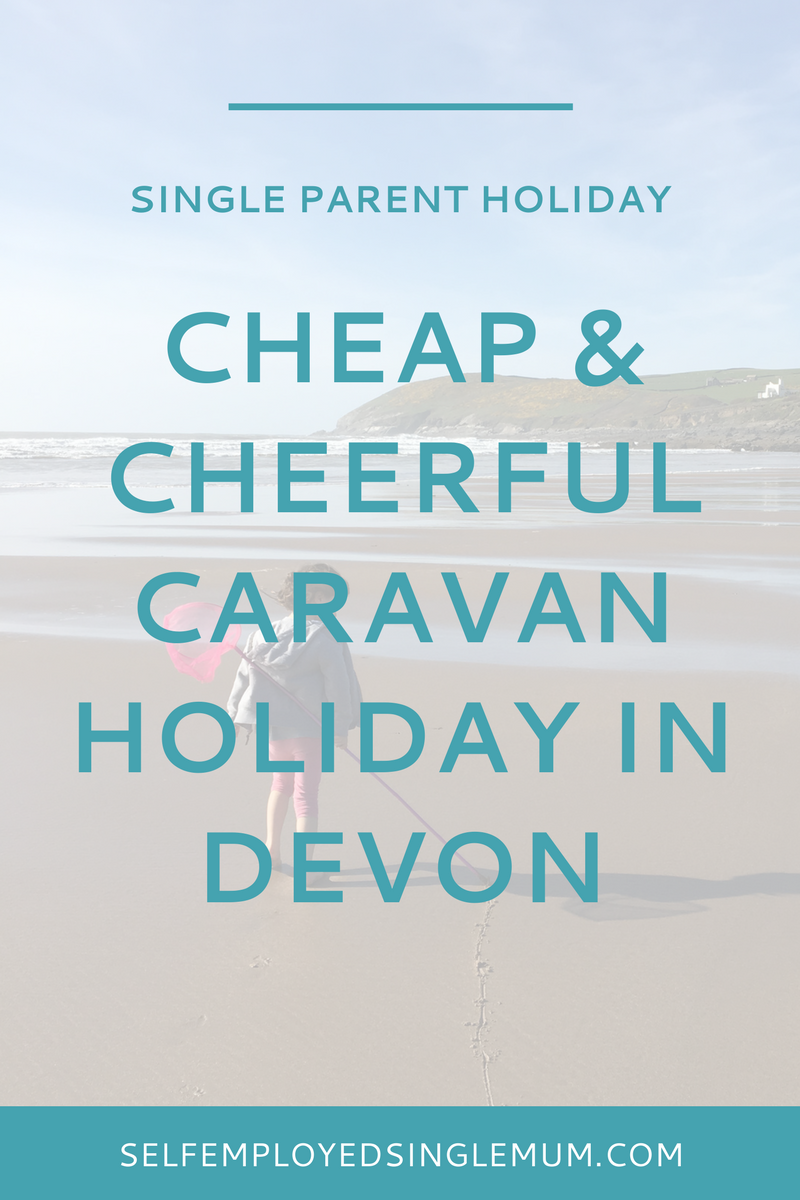 How do you feel about holidays as a single parent? How do you handle them? Do you go away with family – or friends? Or, (gasp!) do you brave going away alone, just you and the kids?
Until recently I've been reluctant to go away with E by myself. It never appealed. When she was little it seemed like it really hard work to be alone with a small child in an unfamiliar environment. No thanks.
Aside from the fact I'd feel like the big fat single loser surrounded by two-parent families, I'd get no downtime. What kind of holiday would that be?
But now she's nearly six things I've warmed to the idea of a 'Mummy & E' holiday. She can be quite good company when she wants to be, and we can do things together than I actually want to do too. Plus if she's suitably occupied – with friends, a DVD or her drawing – I can get away with reclining, in an almost leisurely fashion, reading a book.
Last summer we spent a weekend away together which went surprisingly well, so this year I decided we were ready for a proper holiday. Also, as we've recently moved in with my mum I was aware that E would appreciate having me to herself for a few days.
[label type="primary"]Related:[/label] Why living with your parents as a single mum is NOT a cop out
So when a friend alerted me to the £9.50 per person holiday deals The Sun newspaper was offering in January, I jumped at the chance. I booked four nights at the Parkdean Ruda holiday park in the first week of the Easter holidays.
I figured that it didn't matter too much if we decided to pack up and go home early after driving each other mad. We could test the waters and see things went.
In fact, the Sun are running another offer at the moment – this time for £15 per person. So if you want to grab a bargain (I'm tempted to book another) here's what you need to do:
Get the voucher codes published in the Sun newspaper. There' usually 8 or 10, but don't worry you don't need to actually buy, or read!, the god awful, offensive Sun to get them. Grab the current codes here.  
Then go to The Sun's Club950 website, enter your details and codes, and select a few your holiday destination and convenient dates. They'll then give you a selection of different available holiday to choose from.
It's not really £9.50 per person (or £15 per person). But it's not much more. That's what you pay up front, but then the holiday park will contact you to pay for your service charge per person and for entertainment passes. I booked for four people (that's the minimum) and we paid £115.95 altogether. Four nights there paying full price would have been £439. So we still got a great bargain.
I highly recommend the holiday park we went to – the Parkdean Ruda holiday park in Croyde, North Devon – that friends had recommended to us. I've never holidayed in a caravan before, or a holiday park, and I was ready to get all snobby about it, but I was impressed.
Croyde is stunning
Firstly, you can't beat the location. It's spitting distance from the stunning Croyde beach. We swept past the stunning Saunton Sands, before driving into Croyde itself, and I was sold immediately.
It's all rolling surf, wet-suited surfers with boards under the arms and seagulls calling. Like a much chillier version of beaches in Oz.
Admittedly we were super lucky with the weather. On the Monday when we arrived it was rather chilly but every day it got warmer and out of the wind in sheltered bits of the beach, it was almost (dare I say it?) – warm.
In fact, since we've been back a couple of people have told me I look like I've got a tan! In April? In England? Gasp!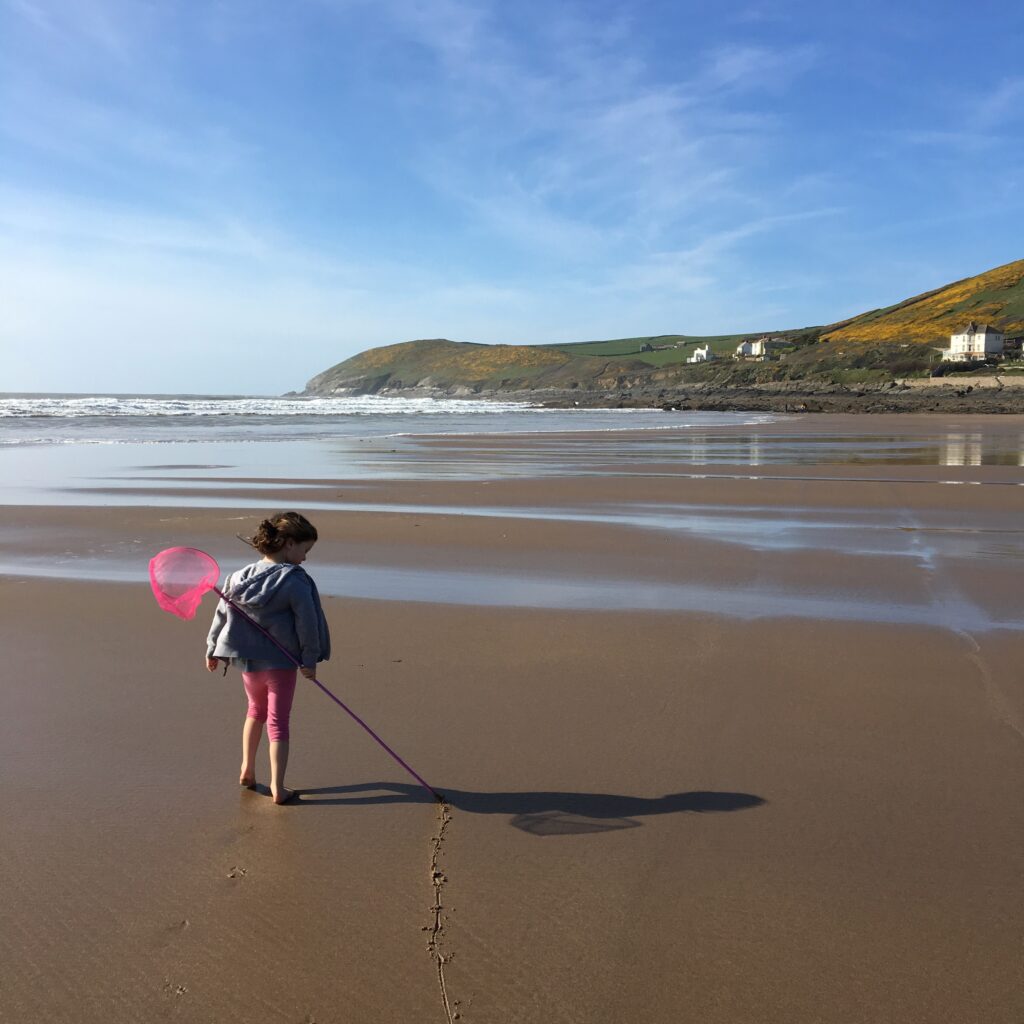 We live in Surrey so it took us a good five hours to drive to Croyde. You can't check into the holiday park until 4 pm, so we rocked up at 4.30pm and after a very quick and friendly check-in at the main reception we had the key to the caravan that would be our home for the next five days.
The caravan
The caravan itself wasn't what I was expecting. Shabby, cramped and a more than a little dated was the impression I'd got from the website. But what we stepped into when I unlocked the door was far from that.
It was spotless, modern – seemingly brand new – and while the bedrooms and bathrooms (a shower room with toilet, plus another toilet) were cute and cosy, the living area was spacious, light and far more comfortable than I expected, with a dining area, corner sofa set-up and a flat-screen TV.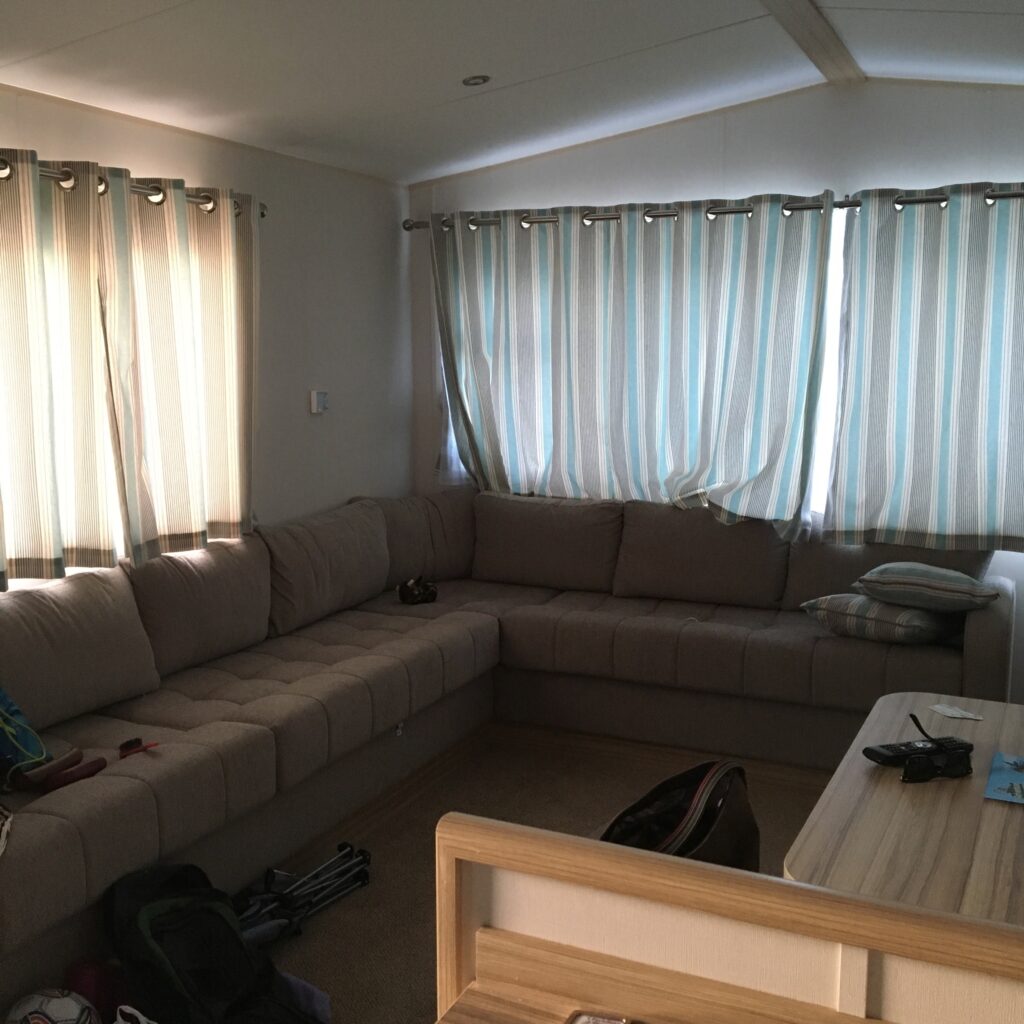 The kitchen was modern with gas hob, electric oven, fridge and microwave – but no dishwasher.
No chintz in sight.
We had three bedrooms – a double and two twins – which came as a surprise. Bags of space.
E was so taken with the cute little bunk-like beds in the twins rooms that she made herself at home in one of them and slept in her own bed every night. She usually demands to sleep with me when we're somewhere new. Result.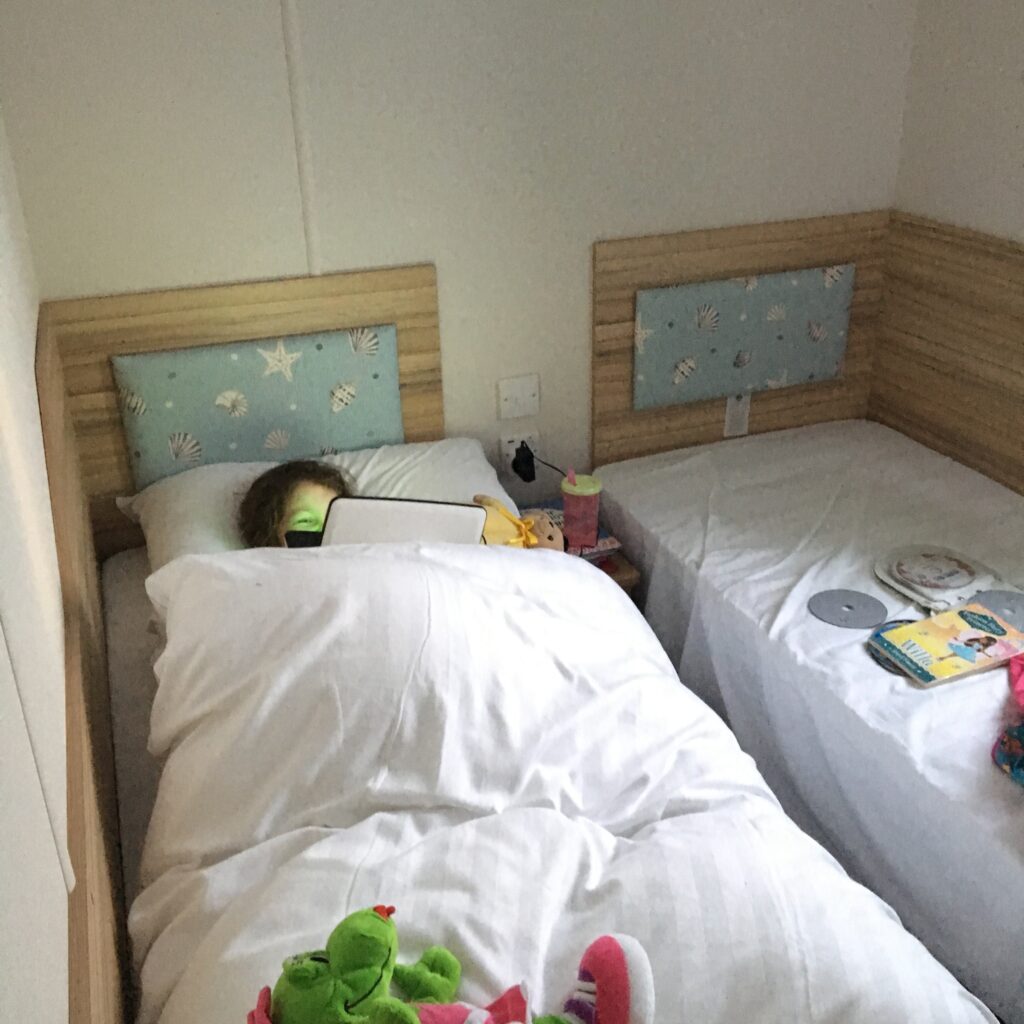 I slept like a baby all holiday, which is unusual for me. I don't know if it was the sea air or the unexpectedly comfy bed and snuggly duvet but I woke up every morning feeling well-rested than I have in ages. Except for the morning the seagulls decided to squabble and squawk on our roof that is.
Holiday park activities and entertainment
So here's why I think this could be an ideal holiday for single parents. There's plenty to do. You quickly meet other people and the kids start hanging out together.
After one morning trip to the playground right next to our caravan we befriended a family, who we met up with at the beach later that day. We even met another single mum and her daughter who we went out for fish and chips with on our last night.
What there is to do at parkdean ruda holiday park
The beach. First port of call, obviously. While I sat in the sun E played in the rock pools, rolled down the sand dunes and built sand castles. Kid heaven.
Two playgrounds. Pretty standard stuff, but kept E amused as she could play with her new friends. I sat in the sunshine with a cup of tea and my journal.
Adventure pool. We went to the pool twice and it was great fun. They charge £1.50 per person for residents (£4.50 for non-residents) and there are slides, a jacuzzi and 'rapids' – a lazy river. Armbands are available for the younger kids. Naturally, E was in her element.

E her new friends (her bingo prizes!)

Kids entertainment. From 6.30pm every evening the camp 'troupers' – yes it really is like Hi-de-Hi! – put on entertainment for the kids. Parents can sip a G&T while the little ones cavort on the dance floor. E even won the kid's bingo! She was so proud of herself.

There's also kids entertainment during the day and a soft play area, but we didn't use either.
Evening entertainment for the adults. Best to steer clear. Unless you like bingo, being dragged onto the stage to blow up a balloon with a snorkel (yes that happened to me!), or overweight singers Simon Cowell would probably describe as 'bad karaoke' (if he was being polite).
The verdict
It's a no frills holiday, but what else do you expect at a caravan park? We love it. We left our five days slightly sun-kissed, relaxed and having made new friends – what a holiday is all about.
E got a taste of adventure with her new friends and we both loved being away from home, by the beach and away from all the usual day to day stresses. We didn't shout at each other once!
There was just enough for E to do that she didn't get bored, and enough comfort for me to relax. I felt a bit self-conscious when we went along to the evening entertainment alone, but it was still fun and it would have been rather dull to sit in our caravan alone every night.
As far as holidays as a single parent go it was a winner, and one I wouldn't hesitate to do again.
My tops tips for a caravan park holiday
Manage your expectations. Be prepared for it to be basic.
Take bin liners, loo roll, washing up liquid, sponges and tea towels.
Also take tea, coffee, sugar, salt and pepper. (I collect sachets of sugar, salt and pepper from cafes and keep them in a little Tupperware box ready for trips away).
Don't forget your beach stuff. Bucket, spade etc. We bought a fishing net for the rock pools from the little shop int he village for £1.50.
Be prepared to pay for wifi if you need it because there's no mobile internet reception at Ruda. Four days access costs £13.99 for up to four devices. Or welcome the opportunity to be off-grid.
There's a TV so I managed to keep up-to-date with Broadchurch (essential!), but there's no DVD player so our little portable number came in handy.
There's not much storage space for your clothes so don't over pack!
Bring ingredients for basic meals as the meals on site aren't up to much. I threw together a couple of very quick pasta dinners. We did eat at the fish and chip shop on site but it was very average. Better to venture out to the rather swanky Squires in Braunton, which we did on our last night. Very posh fish and chips indeed!
Got questions? Leave a comment, let's chat!