March 2017 Income Report – £3307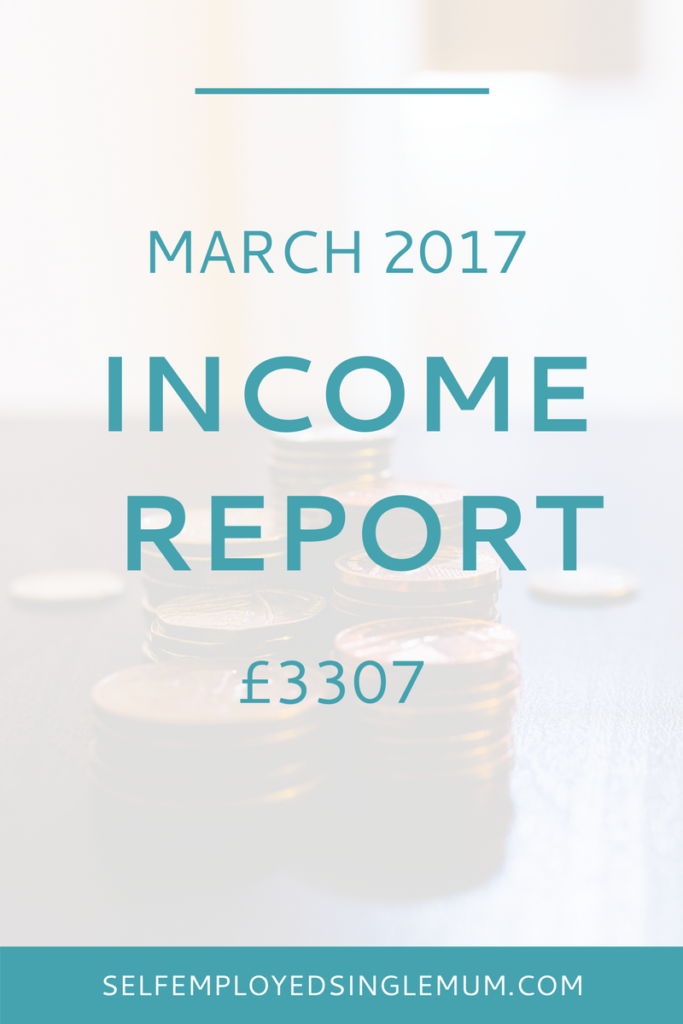 I know it's been done to death but I've decided to publish monthly income reports on this blog. Why? Because I want to be totally honest about the realities of self-employment as a single mother.
It can be a financial roller-coaster.
Total transparency means getting down to brass tacks about what I'm bringing in and what I'm shelling out. I hope that by sharing this, and the lessons I'm learning as I go, you can learn from what works for me, and what doesn't.
I also want to keep myself accountable and it's a great exercise to sit down and review each month properly.
So here's my income report for March 2017.
Please note:
To accurately show the financial reality of self-employment what I'm showing here is what actually came in and out of my account. So it's not necessarily reflective of the work I did that month. Amounts are rounded up to the nearest £.
Any links below marked with a * are affiliate links meaning that if you click them and make a purchase I may earn a commission. This is at no cost to you, and I'm only an affiliate for products and services I use and recommend.
Business income
Freelance copywriting and social media consulting: £3300
Passive income (affiliates/info products): £7
Total income = £3307
Expenses
Bank/service charges: £5
Credit card interest: £9
Stationery (erasable pens to use in my planner!): £6
Meals & entertainment: £15.25
Travel expenses: £30.10
Education & training
Advertising & promotion
Total expenses = £265
Net profit = £3042
(Transferred to tax account = £750, Salary to Emma = £2300)
This is the first month my income has legitimately gone over £3000. (I bought in over £3000 in December, but that was because one client paid me for both November and December's work that month.
This month got pushed above the £3k income barrier because I landed a new (dream!) client. A small charity who have asked me to work with them on a communications strategy for. Happy dance!
My expenses have also risen because I joined Melyssa Griffin's Pursuit HQ (I highly recommend her courses) I increased my investment in time-saving social media tools:
I'm upping my Pinterest game with Boardbooster* and its automated looping function. Since I started looping posts on my key boards (as per Melyssa Griffin's advice) my follower count has increased by nearly 100 in a couple of weeks after being static for years.
I decided to finally take the plunge and invest in Coschedule*. It's really made the process of creating blog posts, and getting them posted on social media far smoother and quicker. I'll be writing a blog post soon about how I use Coschedule with Evernote and WordPress to streamline my blogging process.
I'll continue to test these tools and review the results I'm getting to see if they're worth continuing with.
Benefit payments
I wouldn't be totally transparent if I didn't also report that on top of this income I also get tax credits and child benefit from the government.
Tax credits/child benefit for March = £436
What I learned
Check, double-check and triple-check all links! At the end of March I discovered that the welcome sequence for my thatsolomum.com email list had a rather big error in it. In the emails I link to my social media planner but I'd mistyped the URL! Doh! That welcome sequence has been running for months! Months! Someone who received the email pointed it out to me and when I sent them the correct link they purchased straight away. Chances are I've I've missed out on a huge number of sales because I didn't check the links properly. Lesson learned.
Consistent posting and marketing gets results. I hit 1000 page views on this site which was the goal for my first full month of posting, so I'm really really pleased to have got off to a positive start. It's no coincidence that I've hit that because I consistently posted twice a week and also followed through on my marketing plan goals. I'm focussing on SEO, and on using Twitter and Pinterest for the first three months. I'm also using a few Facebook groups and selectively posting on my personal Facebook profile as well.
Writing every day boosts your productivity. I've been writing a 'stream-of-consciousness' journal every morning as soon as I wake up. Getting the writing juices flowing has made it SO much easier to write blog posts as well. It may not be true for everyone but exercising that writing muscles every day is definitely helping me enormously. I've never produced so much blog content in one month before.
What next?
Keep the momentum going and get the page views for April to 2000. I'm on holiday during the first week of April so this could be tricky as I expect my consistent posting and marketing might take a nosedive. I being more productive than ever but still haven't mastered getting content scheduled ahead of time!
Post at least eight posts in April and get May's posts scheduled as well.
Write a welcome sequence of emails for the email list and get that automated in Convertkit.
Write and automate a forever sequence of emails
Boost my passive income earnings to £100!
Go questions? Leave a comment, let's chat!