Time-saving social media tools that will save your sanity! Part 1
Social media is a huge time suck. Fact.
The optimum number of posts to share per day on Twitter is between 10 and 20. Twenty! That's a hell of a lot of content. And that's before you even get to sharing on Facebook, Pinterest, Instagram, LinkedIn or Google+.
You could easily spend all day, every day finding, selecting, creating, sharing and responding to posts on your social media channels. And who has the time for that? Not me, and not you!
Trying to stay in control of all that content swirling around in your head can also drive you a little cray-cray! I know, I've been there.
But what if I told you there are tools and apps out there that enable you share shedloads of content while also leaving you time to do your actual work and have a life? Oh and not lose your marbles while doing it.
Professional social media managers don't spend every moment of their day sourcing content and posting each tweet individually at the allotted time. Oh no! They've got a system and they use a range of clever-clogs tools to curate, create, schedule, automate and engage on social media, so that social media works for them not the other way around.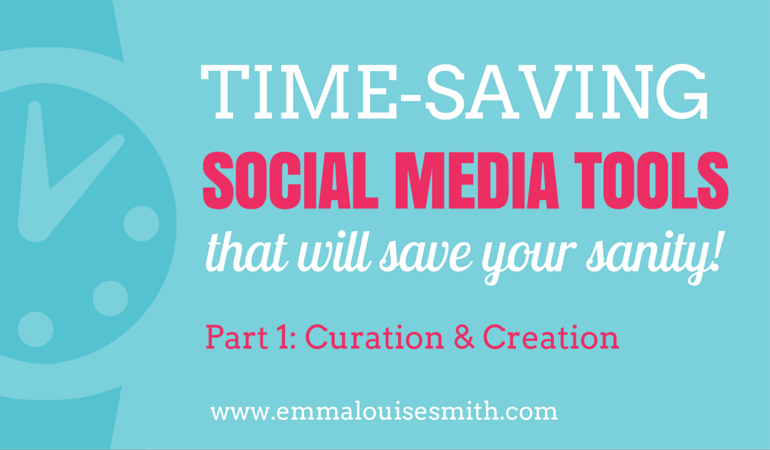 Let tools lighten the load
I've been running social media accounts for the organisations I've worked for for years, but it was only a couple of years ago that I started using tools to lighten the load, thanks to the advice and example of bloggers and online business evangelists like Jo Gifford, Elizabeth Sellers and Emma Cossey.
Now I have professionalised that knowledge as a student on a social media management course with Digital Mums. The course creators, Kathryn Tyler and Nikki Cochrane, know their social. Big time.
I thought I'd share the tools I use because I know you could do with a helping hand reducing the amount of time social media saps from your day. We all could!
This is the first of two posts in which I describe the tools I use to manage my social media accounts and the accounts of the client I'm working with.
Today I'm going to focus on content curation and creation tools. Next week I'll talk about scheduling, automation and engagement.
So let's jump in.
CURATION
No I don't work in a gallery or museum. Curation is about more than art and artefacts these days. According to Dictionary.com one of the definitions of 'curate' is 'to pull together, sift through, and select for presentation, as music or website content.' So for instance, I am curating this selection of social media apps for you.
But I digress. When it comes to selecting and presenting interesting, informative or enlightening articles to share with my followers these are the tools I use.
If you don't already use this built in feature of Twitter you should. Your main Twitter stream is disorganised madness. So organise it with lists. Divide the people you follow into topics. Topics your think your followers would be interested in, or pull out key influencers in your field. Check your lists daily o source articles and blog posts to share with your community.
When I start working for a new client I set up Google alerts so I can both learn about their niche and find great content to share on their channels. I get alerts daily and that I save to share later or add to my Buffer (see next week's post) schedule.
This resource lets you analyse what content performs best for your key topics and finds the influencers in your niche that are sharing it. For instance you can search for 'copywriting tips' for an immeidiately tap into who are the key people to add to the corresponding Twitter lists I know you've created after reading the paragraph above.
Use Feedly to put together news feeds the topics that are relevant to you, from a variety of online sources. I've set up feeds for blogging, content marketing, and writing and I've also set up feeds for topics areas I write about for my clients.
When it comes to organising all this research, I can say enough great things about my next tool of choice:
Evernote is far more than social media tool. It's a life tool. But it can bring order to social media's never-ending appetite for content by letting you save and organise articles that you want to share later.
Use the Evernote Clipper browser extension to save any online article to an Evernote notebook.
I've set up notebooks for the topics I regularly talk about on social media and the topics I working on for clients. So during the week when I come across interesting blog posts or news articles I save them to the relevant Evernote notebook, ready for my weekly social scheduling session or for when I start work on an article.
CREATION
I've spoken to a surprising number of people recently who haven't yet discovered Canva – the supertastic graphic design tool for those of us who are flummuxed by Indesign or Photoshop.
You HAVE to check it out if you haven't already. It will transform your visual content from so-so to drop-dead gorgeous overnight.
I've been using Canva for a couple of years and while it's always been good I wasn't totally sold on it. Until they released Canva for Work. Now I'm a huge advocate and rarely use anything else. I created all the images for this site with it.
While the basic Canva is free, there is charge for Canva for Work (US$119.40 per year) but you can sign up for a 30 day free trial. I won't hesitate to pay up when the trial finishes because every week it saves me huge amounts of time creating visuals for my site and for social media.
It has always had templates that are the perfect size for each social media channels – for headers as well as posts. But previously you had to create them individually which was painful.
With Canva for Work, if you create an image for your website or blog you can 'magically resize' it for all your social channels. It's the magic wand of visual content creation. Try it. You won't look back.
Canva's quick and dirty cousin is great for super-swift image creation, particularly if you also use Buffer. But even if you don't.
I use it to make my daily writing tip quote images because in about 30 seconds I can create something simple and get it out there. Done is better than perfect right?
If you have the Buffer browser extension added to your browser you can select any text in an article, right click, select Buffer/Create Image with Pablo and there's your text on an image background.
You can change the dimensions to suit either Facebook/Twitter, Instagram or Pinterest, change the background, play around with the font a bit, add secondary text.
Yes the functionality is limited, but the advantage of that is you can't waste time fiddling with your images before you ship them – something I tend to do in Canva. I either send them straight to Buffer or save to my Dropbox for later.
---
These tools can save you bags of time and effort. They certainly do the job for me. My social media life is far less frantic since I figured out how to use this tools to take some of the strain.
So try them, and let me know how you go! And don't miss Part 2 of this post to get the low-down on my favourite scheduling, automation and engagement tools! That's where the magic happens…
Perhaps you've used some of these tools already. Do you have any tips for using them? Or if you use any other tools for curating or creating social media content, tell me about them in the comments below, and perhaps I'll write about them another time.
Here's to being smart about social media!

[fusion_builder_container hundred_percent="yes" overflow="visible"][fusion_builder_row][fusion_builder_column type="1_1″ background_position="left top" background_color="" border_size="" border_color="" border_style="solid" spacing="yes" background_image="" background_repeat="no-repeat" padding="" margin_top="0px" margin_bottom="0px" class="" id="" animation_type="" animation_speed="0.3″ animation_direction="left" hide_on_mobile="no" center_content="no" min_height="none"][Tweet "The time-saving tools I use to curate, create, schedule, automate and engage on social media"][/fusion_builder_column][/fusion_builder_row][/fusion_builder_container]