How to create a blogging process you actually stick to (Dare to Grow review)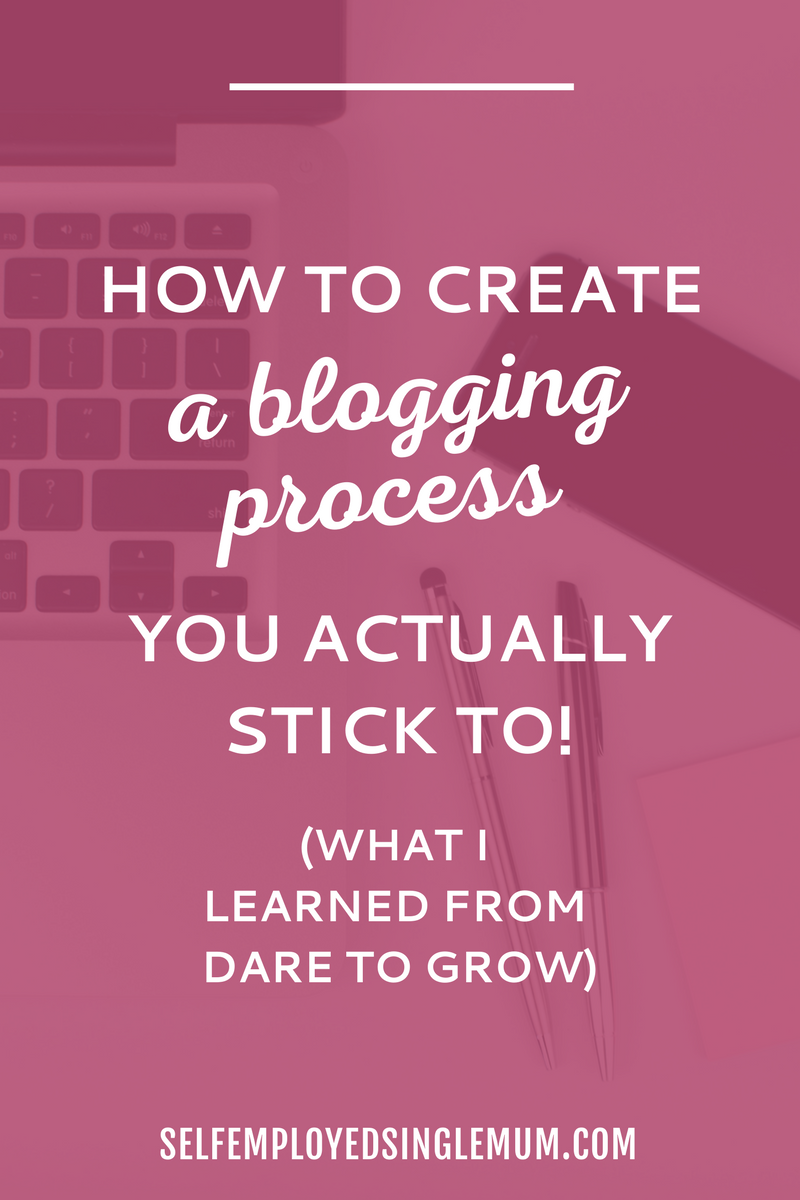 Quick question – how do you feel about growing your blog, your email list, or your social media following? What about your blogging process?
If you're anything like me, the words 'overwhelmed', 'overworked', and 'totally baffled' might come to mind.
Earlier this year I was feeling completely swamped by everything on my to-do list. My goal is to use my blog and social media posts to create a community for single mums, but despite all the effort I was putting in, it just wasn't happening.
I knew I needed a plan and a process for creating content and someone to keep me accountable. I wanted to make sure the stuff I was spending all my time on would actually work.
Most importantly I needed to learn how to do that in a way that not only fit into my busy single mummy schedule but helped move me toward MY goals.
So I decided to invest in my blog and join a course and coaching program called Dare to Grow to help me figure out how to develop a blogging process and grow my online presence.
Dare to Grow is now closed for enrolment & will open again in 2018. In the meantime check out Sarah's other courses including her free course, Dare to Blog.
What I learned from Dare to Grow
Before I joined Dare to Grow I was trying to do too much. I was working my arse off to post twice a week, but often I'd fail to get even one post published. I felt like I was putting in hours of work, but achieving very little. Clearly my blogging process needed some work!
Since July when I joined Dare to Grow I've designed a weekly and and monthly process for for planning and creating content. I've also got a far more manageable process for promoting those posts that my peeps have really been responding to!
Over the last three months since joined Dare to Grow I've:
started posting once a week EVERY week instead of trying to post twice a week – and failing!

developed a super-slick blogging process for getting those posts planned, prepared, written and scheduled.
tweaked my blog design to help readers stay on my site longer.
totally redesigned my social media plan and process to simplify and save time.
started getting 60% of my blog traffic from Pinterest – compared to 30% before I started using Dare to Grow's pinning tips.
The best part of the program is that it doesn't tell you exactly what to do and when. The course  gives you the tools and advice to design your own system and blogging processes. I now have the confidence and knowledge to do things my own way. 
What else you need to know about Dare to Grow

If you haven't heard of Dare to Grow before, the program is run by Sarah Morgan from XOSarah.com who has been designing websites and building blogs for over 20 years.
She's used her blog to build a freelance design business, leave her corporate job, start creating ebooks and online courses, and earn income from affiliate partnerships. And she's essentially taken all the stuff that's worked to grow her blog and business, and turned it into a program to help other bloggers and business owners do the same.
Not only has she put together step-by-step tutorials for things like…
Planning blog content and weekly emails

SEO

Improving your blog design

What and when to post on Instagram, Pinterest, Twitter, and Facebook

Guest blogging and booking interviews

Growing your email list by hosting challenges

Going live and running webinars

Creating an online community and hosting Facebook groups

Understanding and tracking analytics
But she's also super active in the Dare to Grow Facebook group AND hosts live coaching sessions every single month. If I post a question in the FB group or show up to the live Q&A I know I'll get answers and feedback immediately.
Your chance to join Dare to Grow
Dare to Grow is currently closed for enrolment – but will open again in 2018.
In the meantime, check out Sarah's other courses, including her free course, Dare to Blog.
This program has been a game changer for me and I know it could be really helpful in growing your online presence too!
If you have any questions ask away in the comments or feel free to send Sarah an email directly at hello@xosarah.com – she's always available to answer questions too!
Got questions? Leave a comment let's chat