How to promote your blog using Coschedule (the simple, stress-free way!)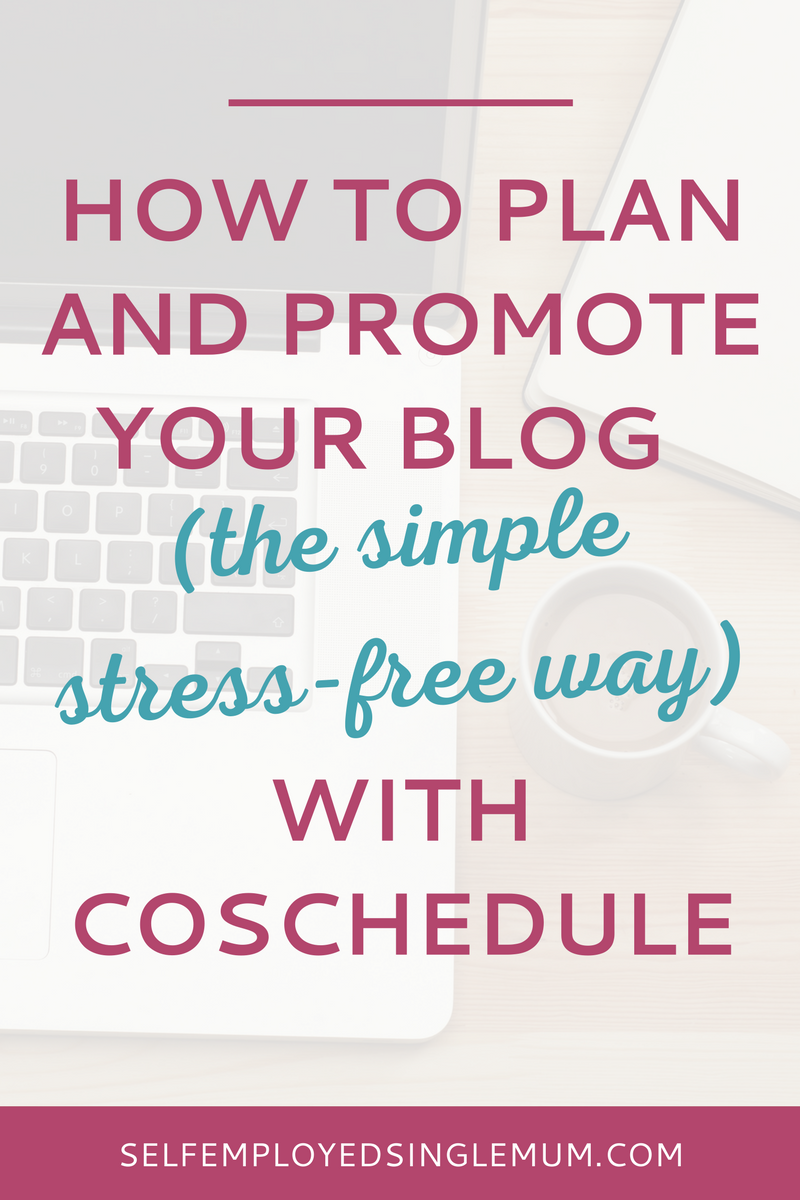 When it comes to planning and promoting my blog I'm convinced I've got a screw loose. That I'm certifiable. Why? Because I've been blogging on and off for 10 years and I only invested in Coschedule last month.
It's nuts because I'm all about saving time and trying to be productive, yet when it came to blog planning, scheduling and promotion I was still doing everything manually. With a mish-mash of different tools and no defined workflow.
I've tested Coschedule out before, but to keep costs down I decided not to go for it. However, when I started this blog I knew I wanted to publish two posts every week (most of the time!), and build up an audience quickly.
I seem to spend far longer creating posts than most bloggers do so I realised that to have a chance of achieving those goals I needed all the help I could afford.
Using a VA isn't in my reach just yet, so I decided to use Coschedule to take some of the heavy-lifting out of planning and promoting my blog.
What is Coschedule?
Coschedule is an all-in-one marketing calendar – an editorial calendar, content plan and social media scheduler built into one.
It's all about publishing content smoothly and efficiently, and then automatically promoting that content on social media.
If you have a blog you'll be aware that there are quite a lot of moving parts in the blogging process.
Planning, writing, creating images, SEO. And that's just for starters. THEN after you hit publish if you want anyone to actually read your lovingly created post, you need to get active promoting it on social media.
There's an endless to-do list and juggling all of this can get complicated. I don't know about you but over the years I've been on a fruitless search for the perfect content calendar.
I've tried maintaining a vast spreadsheet, and various other systems, but I was always left keeping track of information in several different places. Too much complication!
Not anymore. With Coschedule I can keep all track of all my content marketing in one place.
Click here to get started with Coschedule and get a 14 day free trial!
With Coschedule I can keep all track of all my content marketing in one place.
Click To Tweet
What I love about Coschedule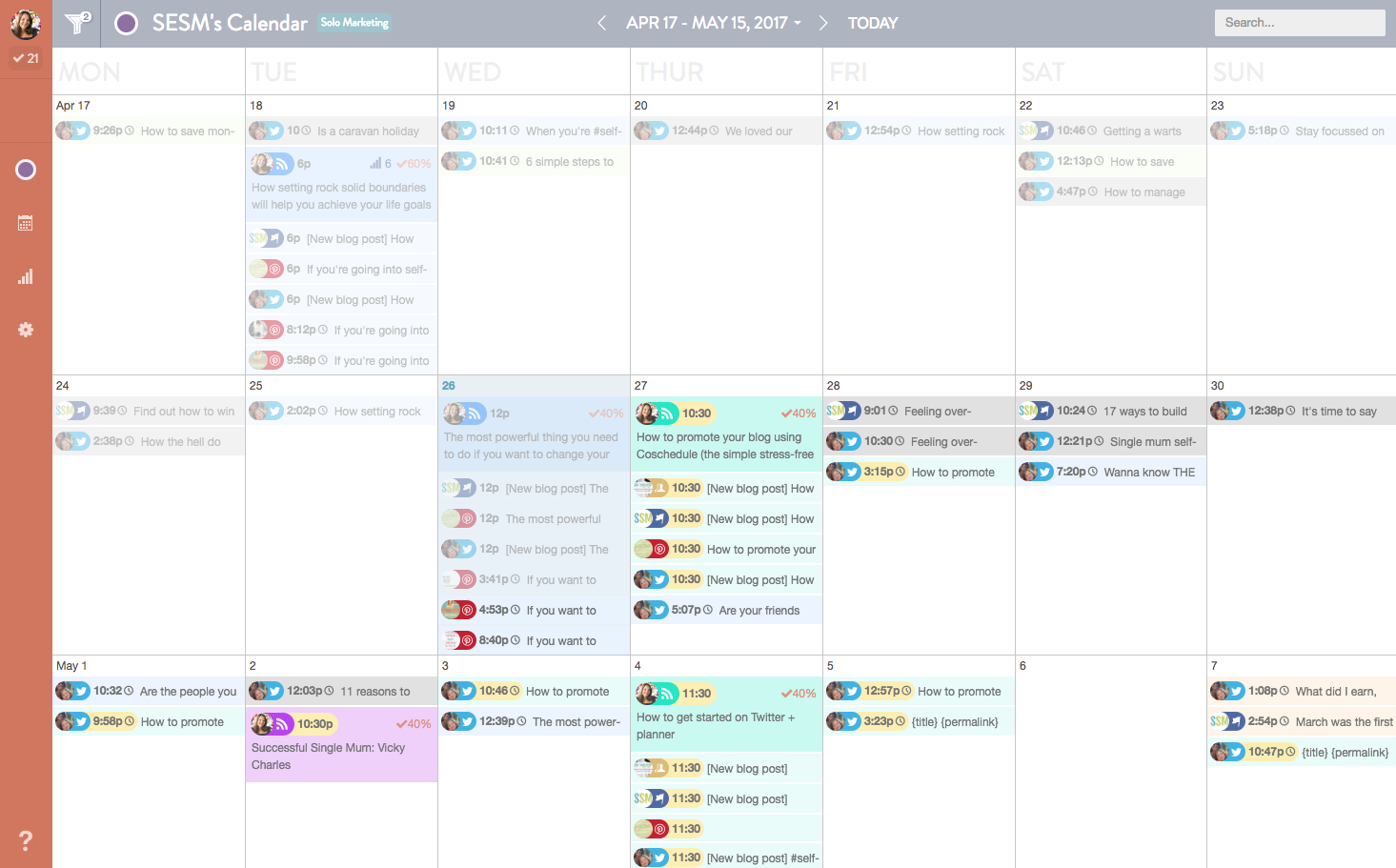 It works as a stand-alone content calendar or with a WordPress plugin.
You get a content calendar where you can plan your blog posts, social media campaigns, other site content, and email marketing in one place. If you use WordPress it's fully integrated into your WordPress dashboard.
It helps you streamline your blog content creation process via integrations with Evernote and/or Google Drive.
You can create template task workflows you can apply to each post.
You can create your social media promotion for each post right in WordPress. This means that once the post is published the social media promotion is fully automated. You don't have to worry about plugging your posts into another social media scheduling tool (what I used to do).
You can also create a social media template for each post. So you don't need to reinvent the wheel for each post, just apply your standard template of posts. This is a massive time-saver and has to be my favourite feature!

Part of the social media schedule for this post – created from my template

Be sure you're publishing posts at the best time by using the best time feature. You can set the posts to go out at specific times or let Coschedule choose the best time of the day for it to go out or the best time within parameters e.g. 3pm-7pm.
Get feedback within your posts about social sharing and engagement, and a top content report, so you can immediately reshape your most popular content.
My BLOG PLANNING & PROMOTION workflow
Here's a rough outline of how I use Coschedule to plan, create and promote each of my blog posts:
Add blog post ideas to Evernote notebook on a regular basis. Usually fortnightly.
Every fortnight I have a scheduling session. I use Coschedule's Evernote integration to see all the post ideas. I then link an Evernote note to the post.
Research the post and write and outline in Evernote
Use Coschedule to convert the Evernote note to a WordPress post
Use built-in Coschedule headline analyser to edit my selection
Finish formatting the post with headings, images, links etc.
Add the social campaign. This is the key to promoting each blog post on autopilot. I've created a social media campaign template for my blogs posts. This means at the click of a couple of buttons I have posts scheduled on Twitter, Facebook and Pinterest. I do need to make a few tweaks to add the right images, and because I like to mix up the text in each post.
Schedule the post to publish and then watch the social media campaign happen automatically while you're busy doing other things!
As I add more posts and their related social campaigns, if I see that too many tweets are going out on one day – I try to send no more than two a day – I rejig them by dragging and dropping them in the calendar. Easy.
I use the top content report to see which posts are getting the most shares and can easily reshare them straight from the report.
How it could be improved
Coschedule has shaved hours off the time I spend planning and promoting my blog posts as it is, but there are a few tweaks that would make it EVEN better.
Twitter isn't included in the top content report. For some reason (the Coschedule team did explain to me) you can't get a Twitter share count on your top content report. This means the report isn't entirely accurate because Twitter is one of my main social channels, so that's rather disappointing. But not a deal breaker. You can still see the Twitter share count in each post.
You can't save a preferred or default view of your calendar. They've just rolled out saved calendar views for team accounts, but it would be great to have at least one default view on the solo marketing calendar. I'd like to arrive in the calendar to a simple view of my scheduled blog posts, but each time I have to select a filter to get there.
What DOES IT cost?
I'm on the Solo Marketing package which I'm paying $39 (approx £30) per month for. But if you pay for a whole year, it's only $30 a month. Either way, I think is pretty damn good for such a powerful piece of software.
Yes, you can cobble together a process for planning blog posts, and then promoting them via whatever social media scheduler you use. But it all takes precious extra time that frankly, I don't have.
I resisted signing up for Coschedule based on keeping costs down BUT now I've got it I wouldn't go back.
The good news is you get a 14-day free trial – no payment details needed – to see if it works for you before you commit any cash. AND if you do sign up you can join their affiliate programme. For every paying customer you refer, you get 10% off. And if you write a review post (like this one!) you get 50% off for a year.
See Coschedule in action: 
Do you use Coschedule to plan and promote your blog posts? Or are you thinking about using it? Did my Coschedule review help you? What is your favourite way of planning and promoting your blog?
Try out Coschedule on the 14-day free trial and there's no obligation to buy – if you don't like it, no problem!
Got a question? Leave a comment – let's chat!