The truth about being a single mum on Mother's Day
Right, today we're talking Mother's Day. A touchy subject for single mums everywhere. Because being a single mum on Mother's Day can feel anything but special. In fact, it can be downright depressing. So this Sunday, I'll be drinking a toast to all you fabulous single mums and giving us all a virtual pat on the back.
So this Sunday, I'll be drinking a toast to all the fabulous single mums I know and giving us all a virtual pat on the back.
If I could I'd bring you all a cuppa in bed, deliver a bunch of flowers to your door and treat you to a lunch you don't have to lift a finger to cook, I would.
I have very mixed feeling about Mother's Day. It's the one day of the year – shouldn't there be thousands? – where mums get to feel special, pampered and taken care of. It's your day.
Except sometimes it's not.
Here's my Mother's Day message for single mums everywhere…
(Prefer to read to watching? scroll down)
Part of me dreads Mother's Day. Yes, I should be grateful I get to celebrate it all. I have the awesome privilege of being someone's mummy. I'm also lucky enough to still have my lovely mum in my life. I have ALOT to be grateful for.
---
[label type="primary"]Related:[/label] 11 reasons to LOVE being a single mum
---
But when you're a single mum, Mother's Day is often just like any other day. No you-time, no presents, no flowers. Just all the usual mum stuff with little kids who may be oblivious to the significance of the day.
Except you also get a great big fat reminder of what you don't have shoved down your throat and flashed up on a big screen in bright lights.
> You don't have anyone to help your kid make you breakfast in bed.
> You don't have anyone to bring you brightly wrapped presents and a bunch of flowers.
> You don't have anyone to take your out to lunch and pose for smiley pictures like the perfect hallmark family.
Yes, I know all two-parent families aren't picture perfect. Far from it. But from my solo mama perspective, it can seem like EVERYONE else is waking up to a pile of presents, being showered with roses and getting blissful alone time in a bubble bath their beloved ran for them.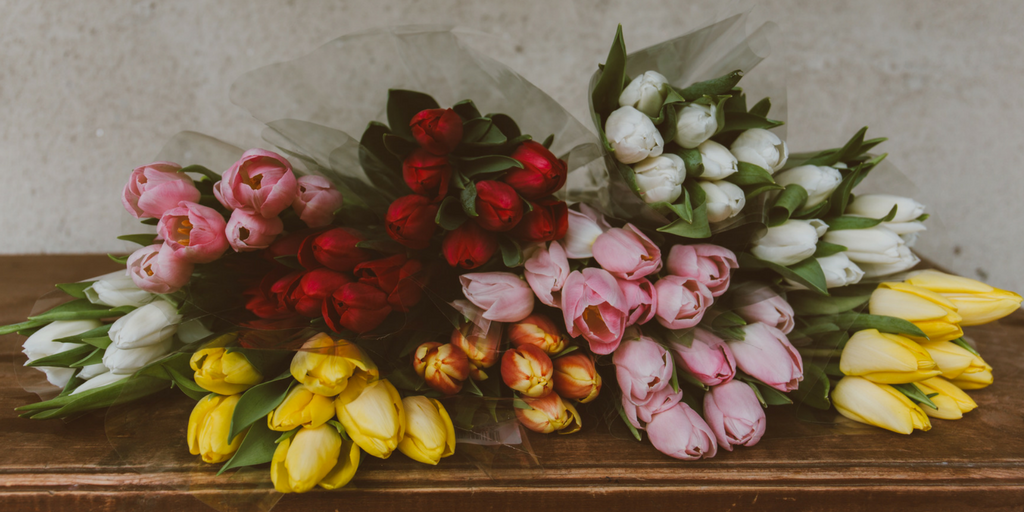 Being a single mum on Mother's Day can be fucking awful.
I'm not exaggerating. The Mother's Days I spent alone when E was tiny and we still lived in Australia are two days I'd rather forget. I cried, and I felt goddamn sorry for myself knowing that most of my friends were being treated and spoilt by their partners.
Now, it's easier. We're back near my family and nearly six years into single motherhood I've made peace with it. Nearly. However, it's still the one day of the year when I'm guaranteed to notice what we lack. The rest of the time I'm used to being a single mum, I'm used to that being our story.
Why the hell does it matter anyway?
What's so irksome about this particular day? Shouldn't I just be happy with my lot and quit moaning. Probably. I chose single motherhood after all (except I didn't really, but that's another story for another day).
But here's why it gets to me. 
For the first 38 years of my life, I fully expected to one day be half of a two-parent family, to have a husband and father who did the husband and father thing.
I never thought I wouldn't experience what it was like to create a child with someone I love. It happens to nearly everyone else, so why not to me?
Mother's Day reminds me of those old wounds and leaves me wondering 'What did I do wrong?'
But then I look at my little girl's smiley, cheeky little face and I see EVERYTHING I did right.
I'd love her to have had a Daddy, to know the special love a little girl has for her father. But that isn't our reality, it's just the two of us, and for the most part, I'm at peace with that. We are lucky in so many others way.
So here's what you, me and all the other single mums should be celebrating on Mother's Day:
that you're a strong, capable woman raising lovely little people all by yourself. That's not to be sniffed at. You are amazing.
that you get to hold your little people close and breathe them in every day.
that to those little people you are the sun, the moon, the earth and the stars.
that every day you get up, cloth them, feed them, provide for them and love them. That's an achievement in itself.
that every day anything is possible. You can live by your own rules, create your own dreams and be your own hero.
that you can buy yourself flowers, treat yourself to breakfast in bed and take yourself out to lunch. You don't have to wait for someone else to recognise that you're fabulous, recognise it yourself. Because it's the truth.
And in case you're dreading the prospect of a lonely Mother's Day. Here are few tips for making Mother's Day special as a single mum:
– plan in advance. Avoid worrying about what you're gong to do and whether anyone's going to remember that you're on your own by taking they initiative to organise something with your family or close friends. People who you know you'll feel comfortable hanging out with. Don't leave it to the last minute and hope someone includes you in their plans.
– treat yourself. Buy yourself a bunch of flowers, that will brighten up your house and make you smile.
– acknowledge that you deserve to spoil yourself. It's not self-indulgent or frivolous to feel like you deserve to reward yourself for your hard work raising an actual human being all by yourself.
– reach out to someone else who find Mother's Day tough. Maybe they're on their own too, maybe they've lost their own mum, are recently separated or divorced. Maybe they've lost a child. Not only do you get to brighten someone else's day, but you'll feel less like you're the only one not jumping for joy because it's Mothering Sunday.
---
[label type="primary"]Related:[/label] 8 quick mood boosters for when everything SUCKS!
---
And my last tip:
Give something back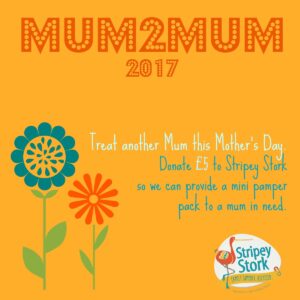 This Mother's Day I'll be doing my bit to support a mum who is doing it tough on Mother's Day by supporting the Mum2Mum campaign run by my favourite local charity Stripey Stork.
For every £5 donated they'll put together a pamper pack for a mum who may otherwise not get a gift this Mother's Day. Find out more here.